671 total views, 1 views today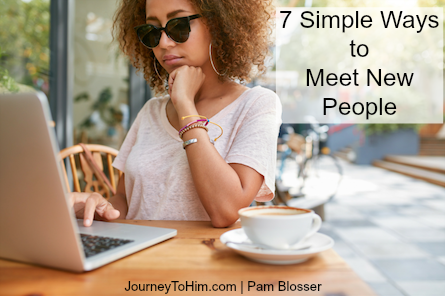 Where are all the good people to date? That may be one of the biggest challenges I hear in my circle from both men and women. Finding effective ways to meet new people may be challenging, but it can be done with a little creativity, peppered with some effort, and a willingness to step out of your comfort zone.
You're reading the third in a series on Christian Dating. I encourage you to check out the others: Four Christian Dating Myths You Need to Forget About and How to Know if You're Ready to Date. Both tackle a couple important first steps before you venture out to meet new people.
Not long ago I was transferred to another city on the other side of the state. Faking bravery I left behind my family, my friends, my church, my house, my dog and basically my life as I knew it. "Challenging" doesn't seem strong enough to capture the impact it had on my life. Except for my employees, I didn't know a soul. I was completely alone night after boring night.
I did all the things I mentioned in post two and made good use of my time in the desert, but eventually, I knew I needed to find some creative ways to meet new people.
Expanding your circle of people and making new friendships as an adult is far different from children. We can't just run out on the playground, take our pick out of the 25 others on the swing-sets, and call it a win.
Meeting others is not a passive activity. It needs to be intentional. And if you're seeking someone to date, it also needs to have an element of selectiveness which we'll talk about in our next session.
To meet people, you need to find their watering holes. That means going where the person you want to meet might be.
Not in any particular order, here are some of my favorite and simple ways to meet new people for dating and friendship.
Seven Ways to Meet New People
Don't Give Up On Church
As Christians, we expect to meet Our Person at church. And that does happen. But for some reason, it doesn't happen near enough. Even the 20- and 30-something crowd tells me they strike out at church. And for those of us who are swimming in the murky over 40 and dating waters, it likely won't be fruitful.
Even though the church may not be like the high school dance where you just walk across the gym floor and pick out your dance partner, keep attending. Join in on service opportunities and attend worship events. Or even better, join a singles small group at your church. Don't have one? Start one. A girlfriend and I started a singles small group that I'm still leading to this day. You might not find someone to date, and it could get sticky if you do, but you will be feeding your soul. Also, your small group circle will help you keep both feet on the parquet as you dance your way through the dating scene.
Get Out Of the House
Remember the dating myth we mentioned about God bringing Mr. or Mrs. Forever-Mine right to your doorstep. It's true. It's a myth. Not that He can't or won't, but it's pretty difficult to meet someone sitting on your couch waiting for the doorbell to ring.
Here's your new plan: Whatever you can do inside your home, that can also be done outside your home, do it outside.
Instead of reading at home, go to your favorite bookstore or library. Do you enjoy an afternoon or evening coffee? Go to your favorite coffee house – not the drive-thru – and linger a while. Normally walk the dog around the block? Take your fur baby to the dog park instead.
Whatever you can do inside your home, that can also be done outside your home, do it outside.
You get the idea. A friend of mine met her husband in line at Starbucks and another friend met her husband when she spent a weekend in the Keys trying to get away from everyone! These are the divine appointments God wants to arrange for us, but we need to participate in His plan.
Say Yes To Everything
It's much easier to say no to new things than it is to say yes, but can I invite you to step out of your comfort zone? Unless there is a safety, moral or temptation risk, every invitation should be yes.
This might not be what you're used to; you and your couch may have a really good thing going on. And don't get me wrong – there's a place for that. But if your goal is to meet new people you need to find new opportunities. Every invitation is an opportunity to expand your reach.
The risky and the bold lead to radical change.
So attend functions at church, after work happy hours and parent groups at your kid's school. Say yes to invites from friends, events in your city and business association meetings. Join a book club or a gym. Take lessons in a sport or dance that you like. The possibilities are endless.
Join Meetup Groups
Sit down and make two lists. One of the activities you like to do and one of the things you've always wanted to do, but never have. Then hop online to Meetup.com and join several groups that offer events for activities on both your lists.
Meetup seeks to connect people who have common interests. This is NOT a dating site although they do have meetups for singles.
They have numerous categories such as food and drink, photography, boating, arts/cultural, faith, books and many more. And if basket weaving is your thing and they don't have a group for that, you can start your own.
I suggest joining several because that broadens your opportunities for activities to attend. I joined five Meetup groups when I was transferred and ultimately narrowed it down to two. The Meetup groups were my life-saver. I found a church, made several new friends, went to several events and yes, even went out on a date.
Search Facebook Groups
Facebook has groups in every city and for every interest. Just go to the search field and type in [Your City] Groups. You can usually find several singles groups in your city as well. Meetup does this a little better than FB, but it's still an option. Also, I hear they are planning to come out with an FB Dating app, so stay tuned.
Consider Online Dating
Now before you roll your eyes and think online dating is for people who can't get a date. Think again. In order to date, you need to locate people who are also looking to date. You could meet 50 people in a more traditional setting and find only a few who are seeking to date. Online dating sites steer you straight to the road all the other singles are traveling.
Online dating simply leverages technology to up your odds of increasing the traffic of singles passing through your world.
There are plenty of sites to choose from. Each of them operates differently and there are several price points available.
Overall, my experience with online dating was fruitful, meaning I went on dates. And that should be your goal. Go into it open-minded, but with zero expectations of meeting The One. If a date morphs into a relationship that leads to marriage, great! If not, I bet you still meet many nice people and potentially a few good friends.
The bottom line is there are a lot of people out there who also struggle with meeting other singles. This is just one option; another tool in your toolkit. If you still think Christians are not allowed to date online, please read this.
Be Open As You Live Your Everyday Life
We need to slow down, live in the moment and take notice of what has been placed before us each day. Your Person may actually be someone you already know.
I conducted a very non-scientific experiment the other night. I went out to dinner, by myself, sat at the bar of a restaurant I like, and never looked at my phone. Not once. I admit it felt awkward trying to smile at all the other people buried in their phones, but I pressed into my no-phone commitment.
And then… In walked the man of my dreams. Our smiling eyes greeted one another. And at once we both knew we had just laid eyes on our Forever Person.
Well, it didn't really go exactly like that, but a man did walk in and sat one seat away from me. Immediately he fell into his go-to habit of scrolling, but after just a few short moments he noticed the girl who wasn't scrolling. The girl who was open to actual conversation. He put his phone down and we talked. For the rest of our meals, we shared stories of life, love, God, and food.
He didn't turn out to be my forever guy, but imagine if I kept my eyes downcast and my soul devouring the contents of my phone? Imagine if he was "the one"? I might have missed this divine appointment.
Whether he was or wasn't, I say divine, because I called eight people to go out with that night. Eight. Not three or even four; eight people. Every one of them turned me down. Indeed there was something God wanted us to hear from the other and I was grateful to participate.
I know meeting new people, especially people to date, is not easy. I've been there. It feels uncomfortable and even hard, but it's worth it.
New activities create unanticipated opportunities.
So be bold. The familiar only leads to complacency. The risky and the bold lead to radical change.
Friend, I hope this encourages you to get moving. To be intentional and then give it time to bloom. Your singleness is an opportunity, not an obstacle.
It's the best time to seek new opportunities that will grow your reach and your experiences. Remember, everything you're experiencing in your single life today is preparing you for your married life tomorrow.
SAFETY TIPS
I would be remiss if I didn't remind you to use common sense safety precautions when dating. This is the age of information; you can Google plenty of material on dating safety. A few rules to hold fast to unless and until you know someone well are:
Never give anyone you don't know your address.
Meet your date at a public place.
Uber to the location so you don't need anyone to walk you to your car.
Never go to a date's home.
Don't drink to excess.
Never leave your drink or food unattended.
Let someone know where you're going and your date's name.
Give a friend the online name and any other personal info you have if you're meeting a date you met online.
A little disclaimer: I'm not a law enforcement official and this is not an exhaustive list. Do your own research and be diligent about putting into practice what you learn.