732 total views, 1 views today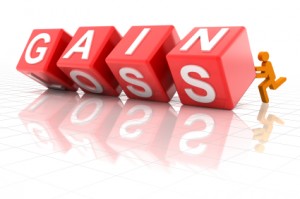 Loss. This can be a BIG word. A house, relationship, work or reputation can be stripped away in an instant. That which we have worked so hard for – is gone. Our brains can be like a runaway train thinking about certain scenarios. Let's take the word LOSS as a hostage for a moment, and see WHAT it really is. Loss is something meaningful taken away involuntarily. Fear is often associated with loss, even before we lose what we hold dear, we valiantly struggle to hold on to it.
We have all heard the infamous statement " the Only Thing We Have to Fear Is Fear Itself " FDR's First Inaugural Address in 1932 . Fear is the greatest thief. Fear can grow as we  fixate on potential or actual loss. The "what ifs" and the "should a done" in life can make us second guess ourselves – all day long. To struggle to maintain all things at its optimum height, is a pipe dream and an overestimation of ourselves. We can enjoy our possessions but not let our possessions posses us.
Let me ask you Is LOSS really all bad?  Often things are removed to allow something greater to be realized. We attach ourselves and become entrenched in things that we know, and have become accustom to. Abrupt change can wake us up to new realities that cause us to reassess and reevaluate our routines.
Pain associated with loss shows us that we are alive. It often debilitates and causes paralysis, but working through this valley is life transforming. Don't take the easy way out and fade away – keep your head in the game!
Here is a good compass to help navigate:
Perspective – A new "normal" creates new thoughts and goals.
Don't sweat the small stuff. The shallow "stuff" is often forgotten.
True needs. Desires and wants can cloud the reality of what we were made for.
Prioritizing what matters to you rather than what is important to people.
The chapter of Isaiah 6 shows us that after King Uzziah died, the prophet Isaiah received a vision and was summonsed to action. He gained so much in HIS time of loss. He was broken but gained confidence, vision and a new language.
You may feel like you lost some ground, but ask yourself "where will I allow myself to be led?" Listen to those that have walked before you, and follow the one with the scars. You will be different, but through loss you gain authenticity. Everything is designed to lead you to JESUS.
Psalms 30:5 "…. Weeping may endure for a night, but joy comes in the morning."
***Want a free devotional on REST – www.jasonfmoore.com