1,384 total views, 2 views today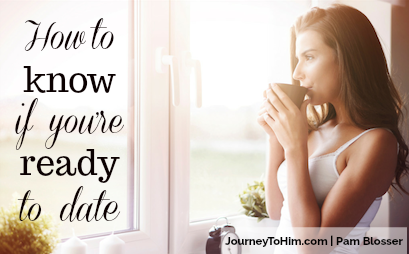 When my kids were in school another mother and I found ourselves navigating the uncharted waters of school-aged dating. We never put any real thought into it previously and so we contemplated whether they were ready for dating. Were they mature enough? Were their hearts strong enough to handle the inevitable break-up? What worthwhile need would being in a relationship fill?
Fast forward a decade and newly-divorced me had to answer those same questions for myself. So, how do you know if you're ready to date or even ready to be in a relationship?
I'm so glad you're back with me to continue our series on Christian dating. We kicked off the series debunking some popular Christian dating myths. Now that we've set those myths aside, let's figure out how to know if you're ready to date.
I've learned the best place to start is, to begin with the end in mind. We need to unearth the underlying motivation, the end goal. Having that honest conversation with yourself is how you will know if you're ready to date or be in a relationship.
Some perfectly fine and healthy end goals could be companionship with no real motive for marriage. Cultivating friendship with someone of the opposite sex is also a worthy end goal. And of course, marriage could be the motivation that whispers to your heart.
Some End Goals that Indicate You're Probably NOT Ready to Date (or for a Relationship):
You don't feel complete without a boyfriend/girlfriend or a spouse.
Your biological clock is ticking so loud you're certain the entire world hears it.
You feel pressured in any way, by any one, and for any reason.
You were in a significant relationship that you're still tied to legally or haven't recovered from emotionally.
You're afraid of being alone.
Other than those definite "no's", and any others that your heart reveals, any goal that involves connecting with someone in a healthy way, and within your set boundaries, is appropriate.
And bonus, the only pre-requisite to adult dating is that you're single! Yes, you must be single. So one more "no" then… You are absolutely not ready to date if you're married!
Before you jump into the dating scene you should feel complete and fully content in your singleness.
This doesn't mean your desire to lock arms with your forever person goes away.
God wired us to walk two by two and that desire can co-exist within a fulfilling single life. But, if you can't honestly say you're content where you are, that's probably a good indicator you're not ready to date.
What you must know is dating, or any romantic relationship, is not a prescription that will heal your physical, emotional or spiritual wounds. I have walked that road and found it leads nowhere and only amplified the ailment I was trying to cure.
Andy Stanley once said, "Your single season is the best time to become the person, the person you're looking for, is looking for." I'll let you take a moment and re-read that…
That means intentionally nurturing and developing your physical, emotional, and spiritual health. And your children's, too, if you're a single mom like me.
Practical Steps to Nurture and Develop the Best You Ever:
Physically – Learn to Love Your Body and Know That it is Desirable
"You are altogether beautiful, my darling; there is no flaw in you." Song of Songs 4:7
I don't know what that might look like for you, but for me, it meant finding an exercise routine that I liked and one that fits my schedule. Not in the pursuit of some unrealistic, air-brushed model appearance, but rather in pursuit of my best, healthiest, shape ever.
Make room in your schedule for physical me-time. Keep your body moving. Exercise, ride a bike or go for a walk. Take up a new sport.
Fill your tub with scented water, light some candles and put on some jazzy music. Dive in and revive your body.
Pamper yourself with a mani-pedi, massage, or facial. Bring a girlfriend along. And if you can't afford it, pamper each other.
Engage in a pastime or hobby that is vastly different from your everyday work. Winston Churchill did this. He painted to counteract the draining duties of his career and the impact it had on his personal life.
De-clutter an area in your home to make space for your soul to breathe.
Being content in yourself physically is a critical component of healthy dating. Many times we use physical attention, and even sex, to affirm we are physically desirable. If you love your body you're less likely to seek affirmation about your body from others.
Emotionally – Carve Out Some Self-Care Time
I dated the entire soul-searching season of my life. Looking for happiness, fulfillment, acceptance, and yes, love, from my boyfriend of the moment. It never worked.
Instead of investing in myself, I invested in the pursuit of someone who I thought would fill my empty bucket. And then, in the pursuit of trying to change them into the perfect bucket-filling man of my dreams.
This is a great time to become an emotionally healthy person. Only then will you recognize another emotionally healthy person. And the unhealthy ones? Well, they will stand out like a neon flashing "Do Not Enter" sign.
Go to a couple of counseling sessions. We all have band-aids on our hearts that we need to peel off so we can let love in. Vulnerability is part of love. A bandaged-up heart takes a fearful and defensive posture. It never stands open or invites. It does not love.
Cozy up on the porch with a good book just for your reading pleasure. Or if you're an information hound like me, read something that speaks to your emotional well-being.
Spend time cultivating your tribe; your inner circle. Your friendships will be a critical component of your dating life. These are the people who know your desires and your deficits. They can help you see clearly when your heart is clouded. And they can be gracefully honest if your desires and deficits lead you down a path that promises destruction instead of dating bliss.
Your friendships will be a critical component of your dating life.
Having a community of support and encouragement is important in life, but especially critical in your single season. Friends are a part of a full life. Invest in the people who make you laugh hard, think twice, and always love.
Spiritually – Believe Who God Says You Are
Since the time we were spiritually born again, a renewing of the mind began to take place. Your single season is one of the absolute best times for you to work that out. To grow spiritually.
Study God's word. This is the time to press into God and listen to what He whispers to your heart. To drink in His goodness. To work out any trust issues you have with letting Him lead your life.
Get out in creation and indulge your senses on a consistent basis. God is always present in creation and He will meet you there. (Romans 1:20)
Practice the art of resting. Slow down and unwind so you don't get unhinged by the world's frantic pace.
Slow down and unwind so you don't get unhinged by the world's frantic pace.
Serve others. What better way to prepare for marriage than to develop the discipline of putting others before yourself? God gave us all a calling. That special talent that is easy for you, but unique to someone else. They were given to you to share on a regular and consistent basis.
Believe and stand firm on who God says you are. He says you are fully loved. Chosen. Redeemed. Made for a purpose.
You will never feel fully loved by your husband until you know you are fully loved by God.
Your single season is the time for you to learn how to walk in that fullness every day. Only then will you be able to date without desperation. And any rejection from dating will be easier to handle.
So you're single. And waiting. Or perhaps you're recently divorced or widowed and have suddenly found yourself back in a place you never thought you'd be. Believe me, I'm right there with you. But don't be discouraged, my friend.
Your singleness is a beautiful rich journey that should be celebrated. An exciting part of your unique and divine story. Savor and delight in it and resist the urge to rush through.
This is the only time you'll have this much time. And it is the absolute best time to prepare for marriage. So live your best life now. Today. Right where you are.