1,548 total views, 4 views today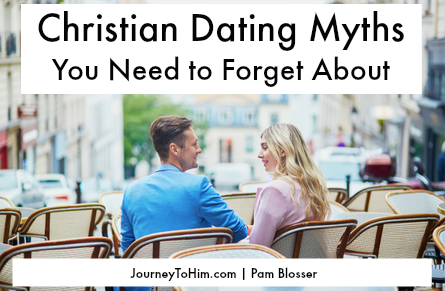 Sitting with a friend a few years back, I shared I was going to give online dating a try. "But, you're a Christian," she said. "I thought Christian's weren't supposed to date online."
Afterward, I reflected on her well-meaning comment, and did a little research, and learned there are indeed a lot of Christian dating myths out there.
I'm so excited to announce a new series where we try to answer some of the top Christian dating questions.
This series is going to answer my friend's concern and much, much more! And for my married readers, please keep reading. Learning about any relationship helps every relationship. There will be truths you can share with the young people in your life or with that friend who found themselves back in the single-life arena.
Ok, let's tackle Christian dating myths.
To dispel a myth, you need to find a reliable source of truth that contradicts the myth. So let's see what God actually says about dating in the Bible.
[Tweet "To dispel a myth, you need to find a reliable source of truth that contradicts the myth"]
Nothing. He says absolutely nothing.
In fact, the word dating isn't even in the Bible! No wonder we have so many Christian dating myths and misunderstandings out there.
There was no dating in biblical times. Families arranged marriages for many reasons, none of which had anything to do with two people falling madly in love.
Dating in biblical times started after the marriage ceremony.
Even though there may not be any specific dating advice, God does provide us with truths to live by that impact modern-day dating relationships. And it's there that we find guidance that dispels some popular Christian dating myths.
CHRISTIAN DATING MYTHS
He has only one perfect person destined to be your one-and-only.
While God may still be in the business of arranging marriages today, it seems highly unlikely that in this entire world of over 7 billion people, there is only one perfect person for you to lock arms with and journey through life together.
Maybe He is arranging some tall, dark, and handsome man with a worn-out Bible for me, but then again, maybe He's not.
I do know this, He's way bigger than having one linear plan.
The only unshakable, linear plan He laid out was His plan of salvation. Indeed, only one path.
But there are many paths that lead to growing your faith, living the best single life ever, serving the Kingdom and yes, dating and marriage. Therefore, it's safe to assume He'll use more than one path for us to find Mr. or Mrs. Christian Right.
Your one-and-only will only be your one-and-only when the two of you have His confirmation that the joining of your lives in marriage will further His cause.
Christians shouldn't date online.
This myth probably developed its roots from people believing the internet is bad. Nope, that's wrong, too. The internet is amoral. How it is used determines whether it assists the user in the pursuit of good or the pursuit of bad.
Or perhaps this Christian dating myth grew roots from the belief that God doesn't need or want you to use the internet for the purpose of dating. It is true God doesn't need anything, but this thinking implies He's good with us using the internet to further His cause, but only in limited ways.
We can use it to teach and learn all things Christian such as Bible studies, prayer requests, and even encouraging posts about your single life, but He's not okay with a man and woman meeting on the internet.
This thinking puts God in a box and is contrary to His word which tells us He will work out ALL things for good (Romans 8:28).
Yes, He can, has, and will continue to use the internet to connect people. If that connection ends in a date or a marriage, great. If not, that's also great.
Christians should only date someone they want to marry or is marriage minded.
This one begs the question…How will you learn about someone unless you date them?
Did you know the very best way to interview a group of people for the same job is to ask all of them the same questions?
Over the course of going through several candidates, the differences in their responses to the same questions will stick out like a sore thumb. You will know them better and therefore be able to make the best decision.
It is the same with dating.
Dating is how you learn about the motives of someone's heart.
By having more exposure to different people, you become more aware of different personality traits and how they fit with yours. Dating is how you learn about the motives of someone's heart. What they are passionate about, their values, how they view the world and others.
Think about it…did you identify the strengths, weaknesses, likes, dislikes, desires, and quirks of your closest friends within the first few hours of meeting them? No. That never happens. Ever.
But, that's not the only reason dating is so valuable.  Dating is also about getting to know yourself.
Romantic relationships are different than any other relationship type. And while I'm not advocating dating a bunch of people just for the sake of dating, it's a fertile ground for you to uncover things about yourself that you might not learn any other way.
Additionally, it increases your network and you never know who you will meet from a new friend you met on a date.
[Tweet "Dating is also about getting to know yourself"]
If God wanted me to marry someone, He'll bring that person to me.
This Christian dating myth doesn't make logical sense. Seriously, if you are sitting at home, bingeing on Netflix, God isn't going to be able to drop someone in your lap.
Of course, God still loves you if you're madly in love with your couch, but you need to get out there and live your best single life now. No matter your age or season in life, you need to risk doing new things, meeting new people, and overcoming new challenges. Believe me, marriage is a really big challenge.  And your single life is a great way to prepare for it.
This is another great way for you to get close to you. To know yourself really well. When the right person comes along you will be better prepared to navigate the waters and discern whether this person is a potentially good fit to be your life-long partner.
Now, please don't misunderstand what I'm saying.
There are exceptions to everything.
It's clearly possible to date only one person in your life who ends up being the love of your life. Your person.
It's still possible to meet your person without the internet.
And God could send your perfect person in the form of a pizza delivery guy.
But whether you date only one person or several before you marry, there should be a few things that validate your decision to marry.
I hope you are both sure you belong together, meaning God has affirmed the relationship to you both. And there has been a sufficient amount of time dating that includes some healthy conflict that you've successfully navigated.
Now that we've put to rest a few of the Christian dating myths, stay tuned for my next posts on how to do it, what it looks like when you're young or getting back into it, what to expect, living your best single life now, and navigating the online dating world.
Get ready because we are going to dive deep into all things Christian dating!