766 total views, 2 views today
For several years …
we have read of the demise of the church in America. Young people are staying away in droves, old people are dying, and everyday the church becomes more irrelevant. On top of that hardly a week goes by without news of yet another moral failure by the leader of a prominent megachurch or religious organization. It feels like we are watching the beginning of the end for the evangelical in America.
We're just waiting for the plug to be pulled and the obituary written.
I'm not so sure, however, that this is the end. While there is no doubt the patient isn't doing well, there are still signs of life. One of the most encouraging signs comes from the UK. Conventional wisdom says that we are just a few years behind our cousins from across the pond in the decline and collapse of Christian commitment in our country. The good news is that there is a renewed interest in faith growing across the pond. Young people who grew up with no church connection or knowledge of the Bible are very open to talking about Jesus. Church planting and multisite churches are expanding across the UK and for the first time in decades church leaders are hopeful about the future. You can read some of the research around this trend here
Another sign of life is the rise of young, innovative leaders who are reinventing what an ecclesia looks like in a post-religious world. Churches are expanding beyond Sunday, gathering in public spaces, training lay leaders to lead microsites, and revisiting the whole idea of three songs and a lecture as the only legitimate expression of worship in a church gathering. Many of these new ideas will likely fade, but some are bearing fruit and starting a wave. It is much too early to declare victory, but it is also way too soon to pronounce last rites.
The church is struggling, but it will survive and thrive.
To thrive, however, we have to confront the tension of maintaining ties with the past while giving the next generation space to invent the future. The reality for me is that I am too old to figure out what's next, and that's ok. When I was in my 20s I wasn't looking for a 56-year-old to come up with great ideas to reach my generation.
What I did need was wisdom and resources that only come with time and experience. If you are in my generation our role is to equip and support new and younger leaders as they discover what God is doing next. We have to stop competing, stop controlling and stop criticizing Millennial leaders. Our charge to next generation leaders is, in the words of the great theologian Mary Jane Watson encouraging Spiderman, "Go get 'em, Tiger".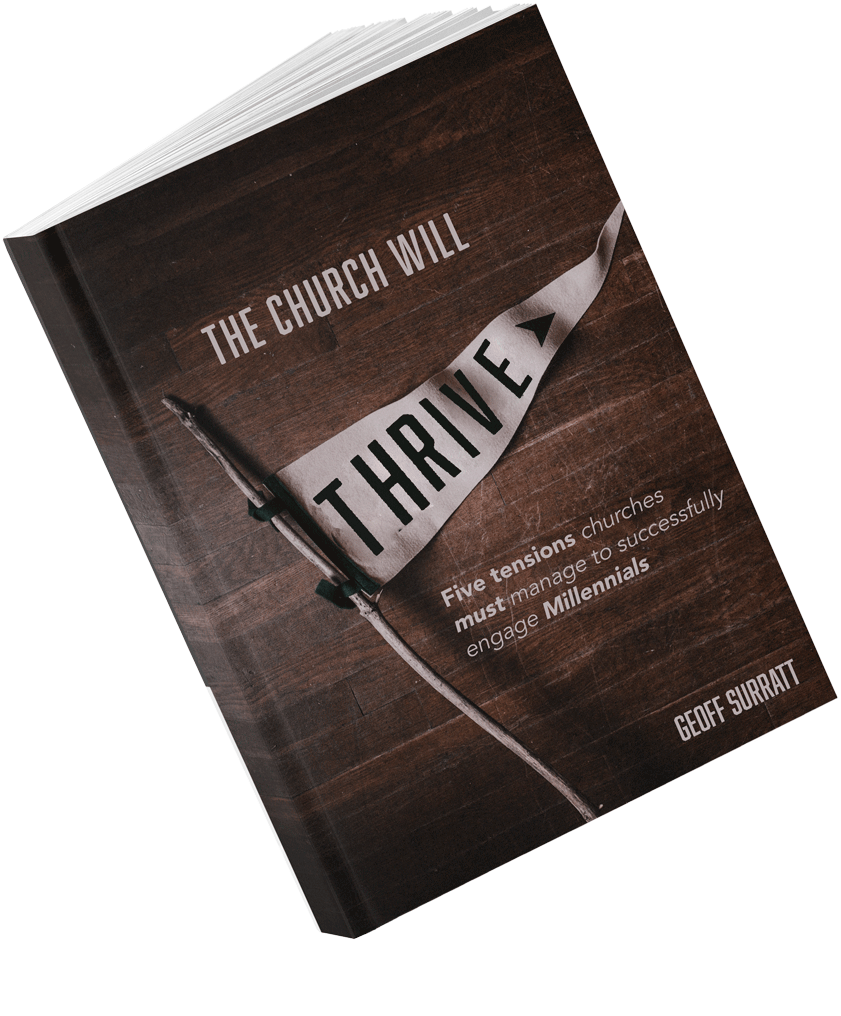 Navigating this new chapter in church history will require balancing the tension between what is necessary from the past and what is needed for future.
I've spent the last several years thinking about and researching this challenge, and share my insights in my new eBook, The Church Will Thrive. You can get your free copy here.
How is God encouraging you today?
Add your comments below and/or at the Cafe Facebook Page
Support this ministry . . GIVE HERE !
Read more at my personal blog where this article first appeared . . GO HERE