1,016 total views, 4 views today
I aimed my phone camera …
at my feet, and snapped the picture at the moment the first wave touched my toes. I stood there for a moment, shivering as another wave brought the icy waters all the way to my heels. I moved the camera and took another picture, this time, showing the perfect border that the foam of a new wave created on the wet sand.
The boundaries of the ocean.
I closed my eyes, saying a prayer of thanksgiving, as I remembered a verse that talks about the relation between God's handiwork and wisdom: "The Lord possessed me (wisdom) at the beginning of His way, before His works of old … when He set for the sea its boundary so that the water would not transgress His command." (Prov 8:9)
I meditated on that truth for a while, as I thought about a trial that my family was facing. I was reminded of the countless times that those words of old proved to be true in my life, while experiencing God's protection over and over again.
Over my health… Over my finances…. And over my family.
When I went to church the following Sunday, my mind once again went back to the waves on the Saint Augustine beach touching my feet. I stood in the central rotunda with a good friend who was also a cancer survivor. She reached out and touched my hand while asking about my next scan. She knew that I had been in a time of waiting for answers for the previous five months, and had been faithfully praying for me during that time.
As she started to share her update, my heart sank to find out that her scans revealed new growth in her body. As my eyes filled with water, her hand squeezed mine a bit tighter, and a broad smile filled her face as she said:
"I am at peace. And I know you KNOW that peace."
The peace that surpasses all understanding. Yep. I know it.
The peace that no money and no good health report can provide. It's the peace attained when one sees God's hand at work in the direst circumstances, and feels His presence in the fiercest battles.
It's not anything a person can understand, unless they have experienced it. It is the product of a life that has experienced time and again that God sets boundaries for every trial, and that His sovereign love sustains us through it all.
"Against facts there are no arguments," the old maxim says.
I believe that is why so many people are undeniably passionate about their faith. To some of us, God has been so intrinsically involved in our daily lives, so real, His word so true and without contradiction, that we can simply stand on what it says and believe it for the next trial. And the next. And yet, once more.
How can we face trials such as cancer, unemployment and the death of a loved one, and still have unshakable peace within our hearts? It's crazy, I know. That's why many people believe we are out of touch with reality.
But that is simply not true.
It's not that we don't know the severity of our problems; neither do we choose to hide our heads in the sand at the sight of trouble.
It's just that, when we choose to walk closely with God, we soon realize that we have enough factual proof in our past to trust Him for our future. And against those facts, there are no arguments.
We simply … believe.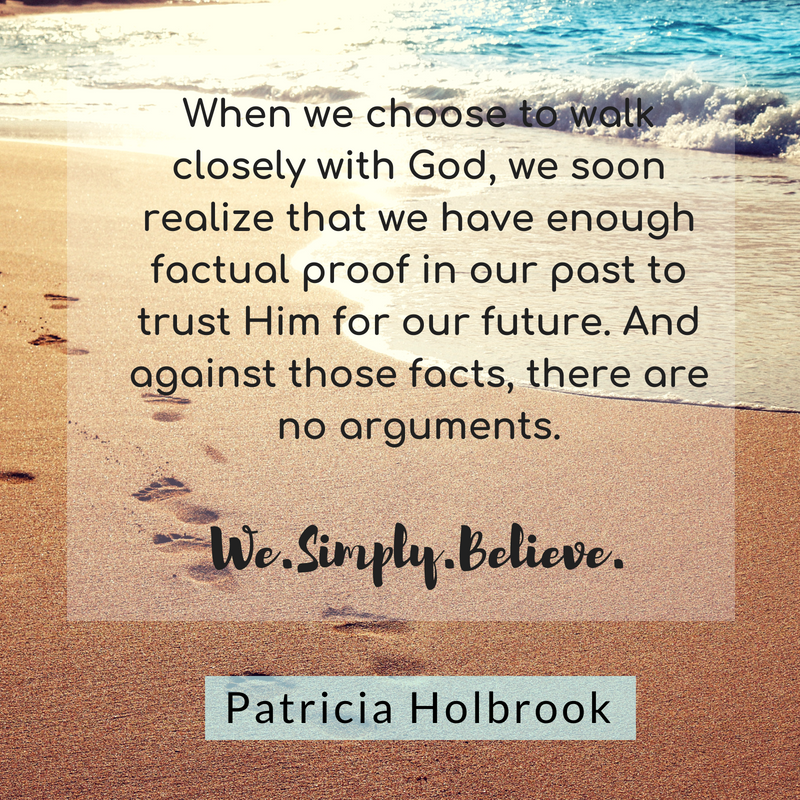 How is God encouraging you today?
Add your comments below and/or at the Cafe Facebook Page
Support this ministry . . GIVE HERE !
Read more at my personal blog where this article first appeared . . GO HERE